Laurel & Hardy Lookalikes
Walkabouts, Mix'n'Mingle, Meet'n'Greet Entertainers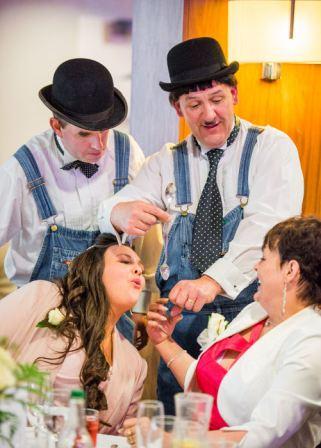 Gary Slade as Stan Laurel & Robbie Graham as 'Ollie' Oliver Hardy
These two great look a likes add a bit of 'magic' to their meet & greet or mix & mingle bookings, as well as a bit of 'fork bending'... and call themselves 'LookalikeMagic'. Ideal for Weddings, Christmas parties, Hollywood themed events, Corporate functions or Private parties of all types.
Based in Merseyside
Frank Terry & Ian Wragg as Stan Laurel & 'Ollie' Oliver Hardy Lookalikes
Both look great as Laurel and Hardy, both do Magic and / or Balloon Modelling while they walkabout your event. Whether that is your Wedding, Christmas party, Hollywood themed event, Corporate function or any other type of Private party.
Based in Derbyshire & Durham areas they'll travel all over the UK

Lookalike Entertainers for hire
Book with A.R.C. Entertainments 01740 631292