Martin Duffy
Childrens Entertainer, Close up Magic, Characters, Magician, Santa Show

| | | |
| --- | --- | --- |
| | | |
| | | |
| | Entertainer in Tyne & Wear | |
Equity Member

Martin Duffy has been performing as a professional magician for about twenty years now. He performs magic suitable for all ages with packages such as:
Childrens Parties
Martin uses a live rabbit in his act, and can include party games and music leaving you to just sort out the food and the invitations. The parties can be themed as well, themes such as:
* Harry Potter Magic Show
* Spook Magic Show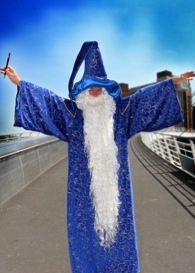 Walkabout Promotional or Party Characters
Martin can add walkaround characters to your event, which make for a great photo opportunity and kids love them, in shopping centres they're a great attraction.
Derek the Animated Dragon
Derek will talk to the children or adults and fits it with any Medieval event or Harry Potter event.
Santa via Satellite Show
Introducing a unique show that takes the whole audience to see Santa in his workshop! Imagine the kids faces as they visit Santa at the North Pole, in his own home... Take them inside his workshop... Talk to him as he makes the toys... check out his sleigh. They'd think it 'pretty cool'! Through the magic of technology, the children can be taken on a simulated trip to Santa's North Pole Workshop. And that's not the only magic they'll see... Martin's Magic Christmas Show makes your event, an event to remember!

Entertainer for hire
Book with A.R.C. Entertainments 01740 631292