Travelling by Tuba
Classical Music Duo & School Workshops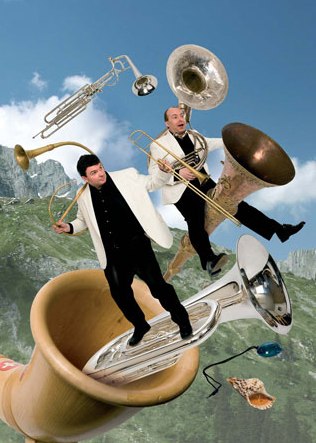 Workshop & Entertainers available for hire from Lancashire

Chris Cranham and Stewart Death are a unique duo performing stunning and innovative shows. With an innumerable array of Wind and Brass instruments they undertook over 200 performances last year. This success was not only due to their virtuosic performance but also their ability as irrepressible entertainers to communicate with their audiences.

Create A Concert in a Day
Workshops For Schools

These 'Concerts in a Day' are an ideal opportunity to improve children's self esteem and to work closely together as a team. While giving them the chance to work closely with professional musicians learning different music from around the world, it is a never to be forgotten experience. It gives parents a chance to see what the children have been learning promoting the home/school link. The day begins with a whole school show (60 min) followed by 3 x 45 min workshops each with groups of up to 45 children. Each workshop prepares a different piece of music from around the world that is performed by the children in the final 30 min presentation. Themes include Salsa, Samba, Tango, Tone Chimes

Themes
Celebrating British values, a flag waving opening procession, instruments throughout British history beginning with the Vikings and Romans as the early invaders. A typical Tudor courtly dance and the Industrial revolution and our unique valve machine. World War 1 songs were full of optimism, learn two at the same time and then continue the Patriotic theme with their own tribute to 'Last Night of the Proms!'

AROUND THE WORLD IN 60 MINS
Feel the South American Samba beat, the calming African Spiritual, Traditional New Orleans Jazz, British Pomp and Circumstance, instruments from every continent and a special tribute to the world of opera. Discover their latest addition, courtesy of Wessex Tubas, The smallest Tuba in the whole World, A real Global extravaganza.

AROUND THE WORLD IN 60 MINS – The Sequel
In planning for Autumn 2018, Featuring a completely different set of instruments They bring you the Sousaphone, Pan pipes, Didjeridu, Cimbasso packed with the usual audience participation and music from around the world – sure to be a real winner

WORLD CUP
Goal! Join Chris and Stewart in celebrating the music and instruments from the countries that will be battling it out to be the best in the WORLD; from the pulsating hypnotic Cossack Dance, football themes, Goals and Offside – they bring you real sporting extravaganza not to be missed.

CHRISTMAS

Christmas traditions and instruments from around the world, seasonal music and a few surprises along the way; from Christmas Island and the Conch shell to the Three Kings and the songs from the East, Pere Noel and the French Ophicleide and the Swiss Alpine horn made from the Spruce (a type of Christmas tree).

All presentations have plenty of audience participation, a Travelling by Tuba trademark, and are suitable for Nursery and Key stages 1 and 2.