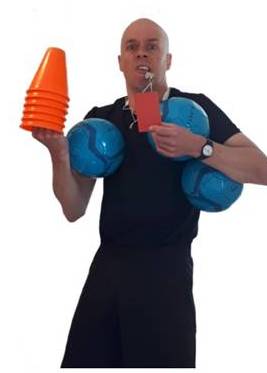 "Jumpers for goal post" I hear you cry, well this is the mantra of Jeff the
Ref......With balls, whistles, flags and cards he is fully prepared to start a
game at the drop of a hat anywhere and with anyone. Jeff the Ref will not
only juggle with footballs, balance flags and flip cones, but will also
manipulate the results of any match with finesse and ease.
Jeff the Ref is also in possession of the latest in BallAttachedToAStick
(BATAS) technology*. BATAS Technology, which has been developed over
many years of painstaking research by Jeff in his shed, can make your
wildest football fantasies come true. Have you ever dreamt of being the next
Ronaldo, Messi, Kane or Suarez? Well with this unique piece of kit your
dreams of football glory are just around the corner.
Static Shows or Walkabout available.
*BATAS technology is "no need for power" version of VR Technology