Same Difference Arts
with Natasha Glew
Walkabout Acts, Entertainers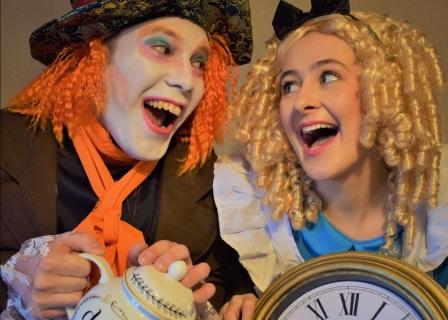 Stilt Walkers & Walkabout Entertainers available for hire from North Yorkshire available Nationwide
Same Difference Arts are multi-talented duo with some amazing acts and costumes both Stilts and Ground-based.
Costumes can be Themed to suit your event, but we think you'll find something to fit below...

Characters
| | | |
| --- | --- | --- |
| | | Alice in Wonderland more... |

Alice in Wonderland Characters - will bring an element of joy and wonder to your Easter events. With the eccentric Mad Hatter 'We are all mad here!' and confused Alice who finds the world 'curiouser and curiouser', these characters will bring this classic story to life - in your own town or event! You can book as Walkabout Characters, Storytellers or a Mini show with either all or one of the following characters: Alice, Mad Hatter, Queen of Hearts, Card Soldiers, Cheshire Cat or Caterpillar also available as a 50 minute three person touring Family show perfect for ages 4-99 although younger members are guaranteed to enjoy it too!

Show is fully self-contained with own battery-powered microphones. A small set-up, able to fit indoors or outdoors or under their own gazebo if required (big enough to cover the actors and upto 20 members of the audience!)

Spiced Satsumas - which one is Sweet and which one is Sour! Sally likes to teach you her dance routine, whereas Stace prefers to play hide and seek, which is tricky when you're a giant Satsuma.

The act is highly visual and wonderfully interactive, as well as funny and sweet. Perfect for Christmas light switch-on events, Food events, Parades and Walkabout entertainment, this act has it all! The pair can also hand out satsumas as a giveaway if provided.

Victorian Carol Singers - remind us of days gone by with this performance inspired by traditional Christmas carol singers: featuring classic ditties from the Victorian period such as 'O Christmas Tree', 'God Rest Ye Merry Gentlemen' and 'Hark The Herald', certain to get everyone singing along!

The performance includes comic interludes between songs and the act performs 3x45min performances within a five hour period. Available with three or two singers dependent upon budget.

| | |
| --- | --- |
| This non-verbal act challenges the perception of Marilyn as just an icon of beauty. Warhol's Marilyn's have been re-imagined as brightly coloured, anti-femme, engaging and exciting characters. Their joy is in meeting people, pulling funny faces and exploring the world of colour around them! | |

| | |
| --- | --- |
| Sense-o-Matic is a science meets Victorian show based around a steampunk-inspired contraption! A show consisting of two plucky young aspiring scientists. Anne is an apothecary & Lottie is learning to be a "lady doctor". They're hoping to win a Nobel Prize for their work in Sensology & the unsuspecting curious members of the public are their victims... sorry volunteers! Come & Test your 5 senses they ask! A challenging and different type of walkabout than you've ever seen before. | |

Outdoor show
Perfect for Festivals, Science events, Arts events.
The outdoor show does 3x45min walkabout sets and engages audiences to test their five senses.

Indoor show
This 1hr show is perfect for indoor venues where they can entertain family audiences.
They can work on a stage or in non traditional theatre venues.
The show uses a projector and a larger collection of experiments to test the senses with the audience.

| | |
| --- | --- |
| Up Periscope is a walkabout & workshop interactive entertainment that presents the theory that a slight physical change of perspective can encourage a conceptual one. By utilising a hands-on, physical & lightly comedic approach the workshops brings learning to life. Participants learn about the history of periscopes, an introduction into the science behind light, mirrors, reflection and refraction, when used as a workshop if schools, the children learn how to make their own periscope turning science into fun! | |

Other Walkabouts
| | | | |
| --- | --- | --- | --- |
| Easter Rabbit | Naughty Christmas Tree | Dinner Ladies | Squirrel |

| | | |
| --- | --- | --- |
| Christmas Fairies | Puppet Master | Ice Queens |

| | | |
| --- | --- | --- |
| Pumpkins | Brussel Sprouts | Witches |