Lester Crabtree
Comedian, After Dinner Speaker & Entertainer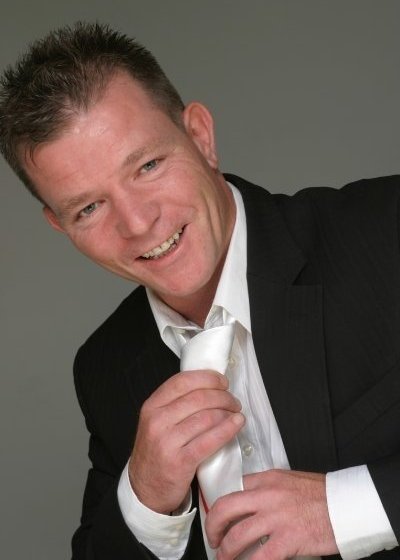 Comedian Lester Crabtree available for hire from Lancashire

Lester Crabtree is an outstanding Comedian from the North West, with his own unique, cheeky, yet attacking style... Lester is currently one of the most sought after Comedians on the UK Comedy & After Dinner circuit.
He has had numerous TV and Radio appearances including 'Ant & Dec's Saturday Night Take Away', ITV's 'Out From the Crowd' and Sky TV's Just For Laughs'.
Lester has fast emerged as a firm favourite in the UK and abroad, and his versatility to perform to numerous audience types enables him to perform at a vast array of various events, making him suitable for Corporate Events, Cabaret, Cruise Ships, Sporting Dinners, Golf Days, Military Functions, Comedy Clubs, Theatre, Television & Radio, where he adapts his material with ease.
Lester Crabtree has worked in some fantastic venues all over the world including the Durban Exhibition Centre in South Africa, Manchester United Football Club and was chosen as the main guest Comedy Speaker for the Abu Dhabi Oilmans Annual Golf Tournament, The Mike Tyson 2010 Tour and the FIFA World Cup Dinner at Leicester City Football Club. He has also appeared on the largest ship in the world 'Oasis of the Seas', performing a staggering twelve shows in five nights in 2014 for Royal Caribbean.
Recently, Lester Crabtree achieved one of his lifelong ambitions... not only did he achieve this by meeting one of the greatest boxers of all times 'Sugar Ray Leonard' but he performed alongside him and interviewed the Legend about his career!type of function and this is what enables Lester to be selected time after time...
Lester Crabtree is an outstanding and unique Comedian with the ability to perform at any type of function and this is what enables Lester to be selected time after time...
Lester is also available as an After Dinner Speaker

During the first lockdown in 2020 Lester Crabtree became an author
His book release was July 2020 entitled
'Born To Die: The Real life of a Comedian'
Take a Sneak Preview HERE!


"The Star Of The Night "Lester Crabtree" A Brilliant Comedian who received a standing ovation. This guy is going places"
(The Mail)