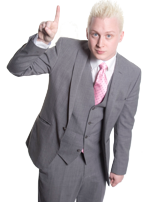 It's fun, interactive and thought provoking. Is he psychic? Is he a psychologist? In the show Kennedy has you think of words then you'll be amazed when he looks right into your eyes and tells you 'exactly' what you were just thinking !
Choose where to sit - he predicted it. Gamble with him and he'll clear you out, just for the fun of it. Load one of three staple guns and he'll fire two of them at his own face, all just inches away from your guests !
You and your guests have seen it on TV and on the biggest stages in the world; Las Vegas, London's West End, Cruise ships, finally you can delight everyone by bringing it to your own event and guarantee it's success.
Oh... and he brings his cheeky northern humour to the party too. Your mouth will be aching... either from the jaw-dropping demonstrations or from laughing your face off.