Steve Abbot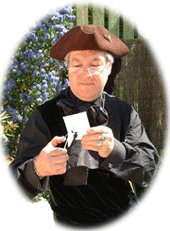 Member of Equity

Silhouette portraits became popular in Victorian times and although time has passed there is still a small band of people keeping this decorative and beautiful art alive.
There are less than a dozen practicing silhouette cutters in the UK. He collects old and unusual silhouette art from anywhere he can.
He is also an accomplished watercolour painter who enjoys teaching these skills to others and manages to fill his lessons with a passion and enthusiasm for art that makes it a delight to learn.
If you would like something different for your wedding, party or corporate function, then why not have a wandering silhouette artiste among your guests. Capture the evening with portraits of all your friends and family in this unique way.

Weddings - For that little 'something different' value, why not have a copy of your guests silhouettes in a lovely Wedding Album with your guests signature or best wishes greeting next to it...?
Steven is credited by The Earl and Countess of Carnarvon