Bavarian Oompah Boys
German / Oompah Band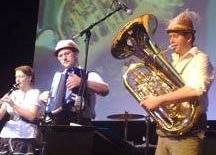 Bavarian Oompah Boys Oompah Band available for hire from Hampshire

Bavarian Oompah Boys are one of the finest Bavarian Bands in the UK.
They travel country-wide providing traditional German music at Oktoberfest themed events everywhere.
Founded by legendary Oboist Heir Spunhklemister they have gone from strength to strength for more than twenty years.
Whether you are planning a small private gathering or a full Oktoberfest themed event the Bavarian Oompah Boys are the ideal option. They have played everywhere from Garden parties and Weddings, through to large Beer festivals, nightclubs and many other types of venues and events.

They are available as -
Duo - with Saxophone and Keys, Saxophone and Guitar, Keys and Vocals, Guitar and Vocals, perfect background music for setting the scene at a Champagne reception or small private event;
Trio - with Saxophone, Keys and Bass, Saxophone, Keys and Vocals, Saxophone, Guitar and Vocals (the most frequently booked instrumental line-up ideal for drinks receptions and dinners);
Quartet - with Saxophone, Keys, Bass and Drums, Saxophone, Keys, Bass and Vocals, the perfect full line-up for the quintessential instrumental jazz sound. Suitable for more upbeat background music or full performance (Drums can be added for dancing at smaller functions if required).