Noel Qualter
iPad Magician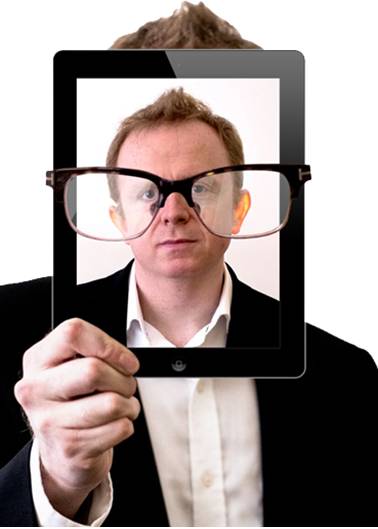 Digital Magician Noel Qualter is available for bookings from London

Digital iPad Magician Noel Qualter has been a professional Magician for nearly twenty years and has always been obsessed with technology. This fusion of his twin passions has led him to create some ground-breaking iPad magic that he performs at Corporate events, Private parties, Trade shows, Weddings, Product launches, Social media campaigns and so much more.
Even if your guests have seen a Close up magician before, they'll never have seen anything like this before! Noel's digital illusions combine centuries of sleight of hand techniques with hi-tech digital animations, apps and programming to create something brand new.
Noel also offers his Comedy magic character 'Gareth from Tech Support' which is a hilarious combination of a Magician, Walkabout comedy character and live action Prank show. You can expect phones to explode into flames, smoke to pour from your gadgets only for Gareth to give it a hard reset with a hammer! But don't worry... you'll get it back in one piece.
Gareth walks around the drinks reception telling people Head Office have asked him to check their phones and then the crazy fun starts..! There's a huge surprise when things start going in a crazy direction!
Noel is based in London and has performed at every top venues both Nationwide and Overseas.
In magic, Noel is known for his creativity and has advised for many TV Magic shows and celebrity magicians such as Dynamo.
If you would like some customized digital illusions involving your own brand, just ask!

Proud member of The Inner Magic Circle with Gold Star
Winner of The Magic Circle Originality Award 2014 2015 2016