Gimme Abba Play List:

Waterloo

Ring Ring

S O S

Knowing Me Knowing You

Name of the Game

Voulez Vous

Gimme Gimme Gimme

One Of Us

Thank You For The Music

Hasta Manana

So Long

Mamma Mia

Money Money Money

Take a Chance on Me

Angel Eyes

I Have A Dream

Lay All Your Love On Me

* Not all the above songs are performed

Honey Honey

I Do I Do I Do I Do I Do

Fernando

Dancing Queen

Chiquitita

Does Your Mother Know

Winner Takes It All

Super Trouper

Our Last Summer

Technical Details of Band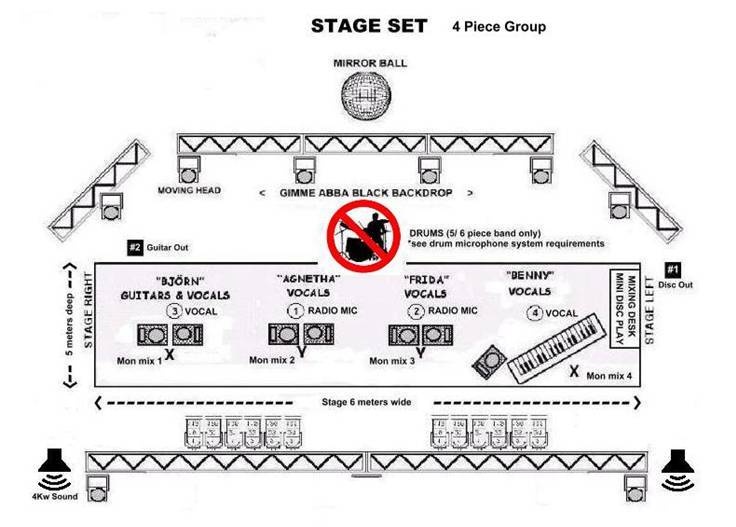 Pat tested equipment.
Gimme Abba use a top of the range 4K EV concert P.A system to bring you the very best possible sound and with pro-stage rigging and stunning FX include Intelligent scanners, stage cans, smoke etc... we will make you venue come to life.
For theatres and the larger venues we use our large 10ft big screen back drop- showing Abba Art images, and our own unique video footage with spectacular Visualisation FX
[ *ask for costing and availability. ]
The only requested recommended requirement from the venue is a raised stage approximately minimum 8m x 5m, but we are happy to be advised and work with your suggested stage limitations / room layout.

Clients should bear in mind that at the moment we do not provide a rider, we do however require adequate sustenance (food with hot and cold refreshments) to be provided for the band members and the engineers.

The fee will be the price for the set and in some case we will require accommodation at the hotel venue or good standard (4*) hotel local to the venue.
For private functions a deposit is required.

Set up of equipment usually takes around one and a half hours, and equipment is usually taken down after the show, or if a stay is required, sometimes the morning after, this is to ensure a smooth running and professional event.

Equipment will generally be set up in the late afternoon, around 6 pm and before 7.30 pm, therefore access to the room will be required from approx. 5.30 pm, their are no set rules and this can be arrange by each individual client.

Unfortunately we do not accept bookings at upstairs venues, unless there are adequate and easy-access service lifts, as their are heavy equipment items which cannot be easily lifted.

Finally, we will be more than happy to assist in making your event as professional as possible, therefore all aspects relating to the above information can be discussed in more detail by contacting this office.