The Ultimate Elton John Tribute
with Paul Bacon Sir Elton John Tribute Artiste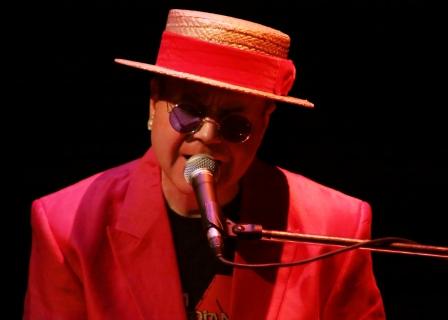 Paul Bacon as The Ultimate Elton Tribute artiste from Berkshire is available for bookings

Some tribute artists look like their idol, some sound like their idol. Paul Bacon as Elton John does both! Close your eyes and you wonít believe your ears, open your eyes and you wonít believe them either! You simply wonít find a closer tribute to Sir Elton John.
Rapidly established as the foremost Elton John Tribute Act in the UK, Ultimate Elton, who also plays with a live band, presents an uncannily accurate reproduction of the classic live shows of one of pop musicís most successful and best-loved artists.
They made the headlines recently when they performed at Elton Johnís Mothers 90th birthday party!
A lifelong Elton John fan, Paul first started singing and performing Eltonís songs whilst studying Performing Arts at University in the early 1980ís. Paulís career highlights to date include dueting with Kiki Dee on ĎDonít Go Breaking My Heartí, singing to a packed Wembley Stadium before the Saracens v Harlequins rugby match, and of course meeting Sir Elton in person!
Ultimate Elton (and The Rocket Band) is now much in demand at festivals and theatres throughout the UK and beyond. They are certainly one of the top tribute acts working today and this has recently been recognised at the National Tribute Awards, run by the influential ĎAgents Association of Great Britainí, who awarded Ultimate Elton ĎOfficial UK No. 1í for 2016.