Joel Coombes
as Sir Elton John Tribute Artiste
Impersonator & Lookalike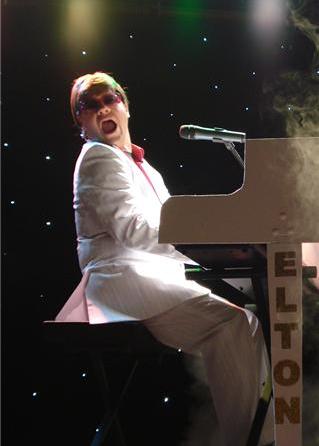 Tribute artist Joel Coombes as Elton John from North Yorkshire is available for bookings

Joel has been playing the piano since the age of seven and has been performing for many years in bands. He now combines his musical talents with the ability to take on the voice and movements of Sir Elton John to put on an amazing
stage show.
Years of working with audiences from all over the world, on land and sea, has given Joel the experience and confidence to entertain the audience between songs and he even speaks like Elton John.
With great attention to detail, stunning costumes and a stage presence to rival Elton John himself he'll leave you feeling like you've seen the real thing

Fully self-contained with own PA and Lights, the Elton John shows can last 45mins, 1hr or 2x45mins so can suit any size event. Corporate, Hotels, Parties, almost anywhere you may want to hear Elton's music from the 70s to present day.

What people say about Joel...
'Top tribute act. The Sun's Elton - Joel Coombes.'
Dave Masters, (The Sun Newspaper)
'Joel Coombes gave us his tribute to Elton John and very fine it was too. Coombes sports the modern Elton hair-do and actually played his white piano, which is not always the case in tribute-land. Enjoyable for sure.
Mark Ritchie, (The Stage Newspaper)
'Thanks for an amazing night at the InterContinental Muscat, Oman. The feedback from guests, management and other entertainers has not been this great in my last 4 years here. Hope to see you again soon!'
Justin Vermers, (Intercontinental Hotel, Oman)