Ian Scott
Tom Jones Tribute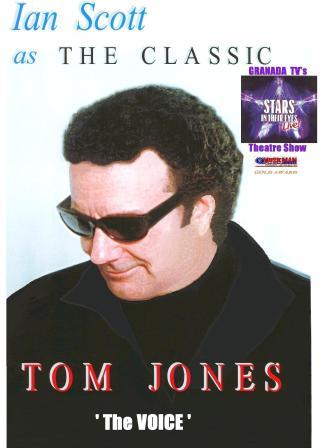 Tom Jones Tribute Ian Scott from Worcestershire is available for bookings
Equity Member

Leave Your Hat On
as Tom Jones

Ian Scott is the Classic Tom Jones Tribute
A Dynamic Performance by .......... "THE VOICE"
Ian has a magnificent and powerful voice that is truly a match for popular music's major singing stars.
Many artistes can sound like a particular star but few are great singers. Ian is a great singer.
Tom Jones deserves nothing less from a Tom Jones tribute act.
After 4 years as a cabaret artiste where he earned the title of "THE VOICE" - he was spotted by an agent while supporting one of the top ABBA tribute acts. He has never looked back since.
A very important part of Ian's tribute to Tom Jones is the fact that he is a top lookalike for Tom. This together with a great Welsh speaking voice and all Tom's mannerisms and phrasing really creates the illusion that it's the real thing!
He recreates all the passion and power of a Tom Jones concert, interacting and chatting with the audience
and even involving some of them on "What's New Pussycat?" They love it!


Solo artist as Himself
Ian also performs a Cabaret Show as himself
Fully Self Contained