Acoustic Beatles
Beatles Tribute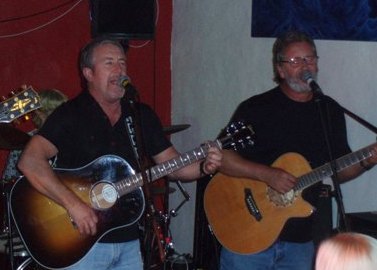 Acoustic Beatles Duo - Beatles Tribute available for hire North East

Meteoric!
That's probably the best word to describe the rise of Acoustic Beatles.
Since forming in 2004 Brian and Phil have endeared themselves to a legion of fans and made many friends.
They re-create the Beatles music using only two acoustic guitars and two voices. The duo complements each other perfectly, both instrumentally and vocally!
Their Pan-European campaign across the continent produced impressive results. Touring stints in Ireland, Greece and Tenerife has enhanced their reputation to heights beyond their dreams.
The recipe is simple… A genuine love of the songs, painstakingly re-created in their own style. The end result?
A contemporary and refreshing take on some of the most wonderful moments in the history of music!
The live portfolio features a 5-gig stint at International Beatle Week 2007 at Liverpool including a prime-time weekend show at The Cavern Club. The shows were so well received that a return in 2008 was assured.
This year sees a great honour bestowed upon them to open the Hard Days Night Hotel where only the crème de la crème will be invited to perform.
Add to this a "stops out" show at The Acoustic Festival of Britain 2008 in Derby where they rubbed shoulders with major acts; Donovan, Melanie, Midge Ure and Jethro Tull to name but a few.
The pursuit of excellence is set to continue for this fantastic act! From corporate events & festivals, to pubs & private venues. Whether the venue is big or small, they'll see you there!