Sue Lowry Tribute to Brenda Lee
and the 50s Legends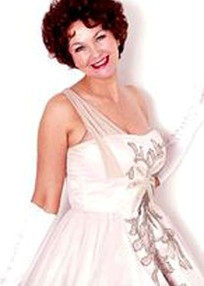 Brenda Lee Tribute Sue Lowry is available for bookings from Merseyside

Brenda Lee' Jukebox Show takes you on a rock 'n' roll journey hit after hit, with both genuine vintage, and as near as possible replica, costumes giving the audience the feeling they have been transported back in time!
Back to the 1950s. Watching Little Miss Dynamite herself belting out those wonderful memorable songs.
With a set made up of hits from Connie Francis, Doris Day, Elvis and Chubby Checker to name but a few... This show never fails to get the crowd dancing, hand jiving, jumping the broomstick and twisting the night away!
Perfect for Themed evening, Weddings and Parties of all types